Robotic Surgery
Compared to conventional procedures, robotic surgery offers patients numerous potential benefits. High definition cameras deployed offers a field of vision that is far superior to previous generation techniques.
Banded Gastric Bypass
It involves placement of a small ring around the upper portion of the stomach to create a pouch roughly an inch long, with the ring also assisting as a stoma. A surgical connection to a portion of the small intestine completes the operation.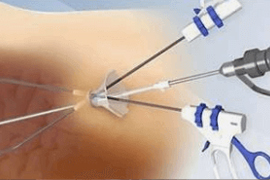 Single Incision Lap Sleeve
The biggest difference with single incision (SILS) is the added benefit of little to no scars. It also has reduced post operative pain because of the single incision, which allows quicker recovery.